All new members must register with Judo Ontario prior to their first practice for insurance and club sanctioning purposes. Athletes returning to Asahi must also ensure their Judo Ontario membership is up-to-date.
Judo Ontario fees are due in September of each year. Registration must be done through the Judo Ontario Website.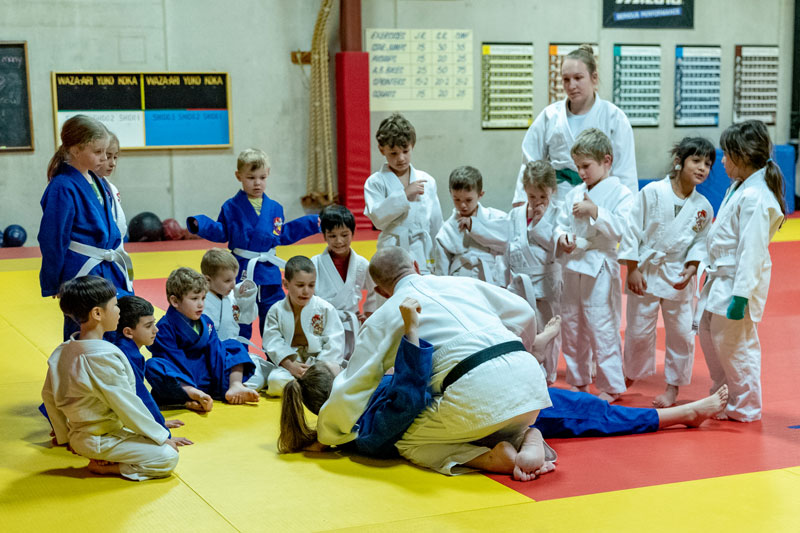 FALL 2020 Session Runs Sept 14 - Dec 12
Notice: Class Times and Descriptions subject to change due to COVID-19 
At this time we are offering limited classes, with a maximum  of 10 and and by registration only. Please contact the club for more information. At this time NO drop-ins are permitted, Only those registered for a class time will be admitted. 
| Ages Groups | Age as of December |
| --- | --- |
| U8 | 5 to 7 yrs |
| U10 | 8 to 9 yrs |
| U12 | 10 to 11 yrs |
| U14 | 12 to 13 yrs  |
| U16 | 14 to 15 yrs  |
| U18 | 16 to 17 yrs  |
| U21 | 16* to 20 yrs  |
| Senior | 16* yrs and older |
Wolf Cubs
(Mon/Wed)
Appropriate for ages 4 to 7 yrs. Focus is on development of coordination, balance and agility through judo-oriented exercises, techniques and games

Samurai
(Mon/Tues/Wed/Thursday)
Ages 7 to 13 depending on ability. This is a great class for beginners and those interested in judo as a fitness. The focus is on development of physical capabilities and competitive judo techniques.
Young Olympians
(Tues/Thursday)
Higher intensity training for those who wish to compete and are in the U12 and U14 categories. Note: this is more physically demanding and intended for Orange belt and up
Adult Rec Judo
(Tues/Thursday)
For adults who are interested in learning judo but at a non-competitive pace. All ages (18+) and levels are welcome.

U16+ / Senior Technical
(Monday)
Training focused on Competitive technical judo and Randori. Intermediate intensity
U16+ / Senior Competitive
(Tues/Thursday)
High intensity training for competitive judoka U16 and higher. This practice has high levels of Randori and Tactical training (Younger than 14yrs by invitation)

U16+ / Senior Transitional
(Wednesday)
Training focused on those teens and adults who are beginning judo, moving up from junior programs, or recreational
Family Judo
(Sat)
Open to all age groups. Recreational in nature and relatively lower intensity, although we'll still make you sweat. Great place to start judo for kids and adults.
Inclusive Judo
(Sat)
Program designed for students with Autism (ASD). It is structured with a low student -instructor ratio. Please discuss with instructor before enrolling in this class.